Looking for more information on Case catalytic mufflers?
Contact us at 1-800-361-6388
Located in the Greater Toronto Area, Nett Technologies Inc. is an innovative emissions control company that specializes in the design, development and manufacturing of proprietary and non-proprietary Case emission control solutions using the latest in 3-Way technologies. Sold and supported globally, Nett Technologies Inc., uses the best of materials, innovative product design and quality workmanship to manufacturer its products.
We are the industry leader and an innovator of direct-fit emission control solutions for Case equipment. Our Case direct-fit replacement mufflers replaces the OEM mufflers while retaining the same envelope size. Additionally, our Case after-market mufflers keep key engine performance attributes like sound attenuation and back pressure while for an affordable replacement. Discover today the many ways Nett Technologies Inc. can help you and your organization with all your Case emission control needs.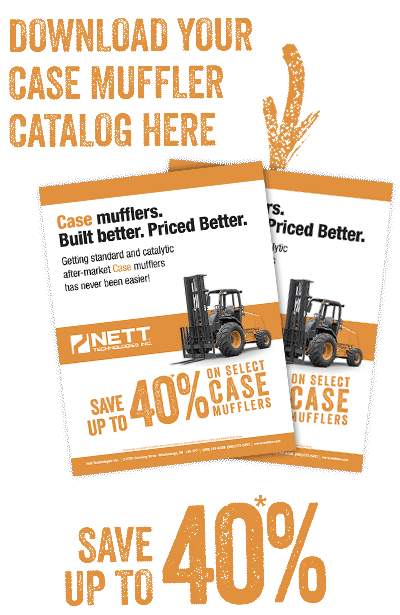 Are you looking for a Standard or Catalytic Muffler?

*All savings are subject to certain terms and conditions. Discount available on select overstocked items.
Note: Nett Technologies is a manufacturer of aftermarket mufflers and catalytic converters. We are not affiliated with Case Company.
DID YOU KNOW WE SELL STANDARD AND CATALYTIC MUFFLERS FOR THESE OTHER BRANDS?
We've been a Nett Technologies customer for the last five years buying mostly mufflers for our fleet of Case fleet of contruction equipment. We are continually amazed at the level of service and product quality at Nett. I would like to personally thank you, keep up the great work.