Nett Technologies Inc.'s BlueMAX™-Series Selective Catalytic Reduction (SCR) System is an advanced after-treatment technology that reduces Oxides of Nitrogen (NOx) emission up to 99% from a wide variety of natural gas and diesel engines for up to 20 MW. Using the urea solution that breaks down in the exhaust stream to form ammonia, makes Nett SCR as one of the most cost-effective ways to become complaint to Best Available Technologies (BAT), MOECC (Ministry of the Environment and Climate Change) 0102463, 4SRB SI/4SLB RICE NESHAP and Tier 4f/ Euro Stage IV.
With over a quarter of century experience providing verified technologies, Nett Technologies manufacturers highly optimized SCR systems that bring forth continuous compliance to stringent emissions requirements.
Principle of operation:


In this closed-loop system, the harmful NOx emissions are reduced over the SCR catalyst through a chemical reaction with a fine mist of urea solution or Diesel Exhaust Fluid (DEF). The retrofit ready system consists of a removable SCR reactor, a control panel, and a DEF tank. The control strategy relies on a number of integrated sensors through a closed feedback loop that makes the system very suitable for all load conditions. The emission control system continuously monitors the input NOx levels and switches the urea pump to inject an adequate amount of urea into a mixing chamber where the suitable compressor provides adequate compressed air. The NOx sensor-based control strategy makes the system fully automated without the need for operator interference.
BlueMAX™-Series SCR System Benefits:
The most compact industrial emission control systems on the market, with scalable designs and customization options.
Automated control system without human interaction.
Robust stainless steel design suitable for high heat exhaust applications.
Low system backpressure to ensure compatibility with the OE engine specs.
Modular housing with easy access to catalyst element and injector(s).
Industrial grade injection pump systems and internal pressure diverter valve (PDV) (optional for DPF).
Advanced controller with the intuitive graphical interface, remote monitoring & data logging capabilities, including BAS (Building Automation System).
Installation and integration-ready design with the ceiling, roof, horizontal, and vertical mounting arrangements.
We are your single supplier for all exhaust related accessories from engine turbocharger flange to rain cap!
Are you looking for an SCR System Quote? Submit an online request.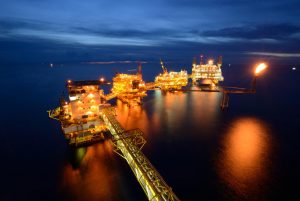 BlueMAX™-Series SCR System Applications
With hundreds of installations worldwide the Nett Technologies' BlueMAX™-Series SCR System has been proven and tested for many applications:
1. Power Generations: Hospitals, Data Centers, Financial Institutions
2. Drilling Rigs
3. Gas Compression and Liquid Pumping Stations
4. Combined Heat and Power (CHP)
5. Non-Road Mobile
Our emission control systems are suitable for all types of generators:
Emergency Stand Power (ESP) Generator
Standby (Backup Generator)
Mission Critical Standby Generator
Prime Generator
Continuous Power Generator
Peak Shaving Generator
With the cost-effective, compact, and low-pressure drop SCR Systems, Nett Technologies Inc. is leading the way through innovations, technologies, design engineering, optimizations, customer service, and lead-time in the emission control industry. Our SCR Systems are suitable for Kohler, Generac, Caterpillar, Cummins, John Deere, INNIO's Jenbacher and Waukesha, Perkins, MTU, and Doosan Engines.
Nett BlueMAX™-Series SCR Systems are compatible with these brands and many more!
Product Options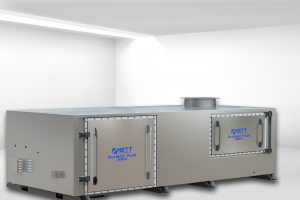 To provide optimum performance, each BlueMAX™-Series SCR system is custom designed for the intended application. The main components of the BlueMAX™ system include the Selective Catalytic Reduction (SCR) catalytic converter, the computerized Urea Dosing System (UDS), and integrated housing including the mixing chamber and the urea tank. For diesel applications, the SCR system can be also equipped with the Diesel Oxidization Catalyst (DOC) and the Diesel Particulate Filter (DPF).
Silencer
Typically, the BlueMAX™-Series SCR System provides an overall 35-43 dBA sounds reduction. Further sound attenuation up to 55 dBA is available upon request. Please contact one of our representatives for further information.
Diesel Oxidation Catalyst
Precious metal coated Diesel Oxidation Catalyst (DOC) can be installed upstream of the SCR unit. The DOC core is made of corrugated, high temperature resistant stainless steel foil, packaged into rugged stainless steel containers. The DOC oxidizes Carbon Monoxide (CO), Hydrocarbons (HC), partially the Particulate Matter (PM), and aldehydes contained in diesel exhaust to non-toxic compounds: carbon dioxide and water vapor.

Diesel Particulate Filter
As an additional option, our BlueMAX™ SCR system can also include either a Passive Diesel Particulate Filter or Active Diesel Particulate Filter. Passive filters are generally utilized on engines that operate under heavy loads, while active filters are used on engines that have a lighter duty cycle. Electrical Heater and Hydrocarbon Injections are used to increase the exhaust temperature for the active regeneration.
Electrical Heaters
When the temperature is not sufficient for passive regeneration, a set of electric heater coils are used to increase the exhaust temperature for active regeneration. An Electronic Control Unit (ECU) evaluates the system parameters such as temperature, pressure, and exhaust mass flow rate in real-time and uses these values to predict and activate the regeneration cycle.
Monitoring System (GUI)

BlueMAX™-Series SCR consists of a monitoring and alarm system with a color display that will log all the data from the system and inform the operator about system parameters such as filter load level, exhaust temperature(s), and pressure. The system is also equipped with an alarm that will notify the operator about any system issues/errors such as sensor malfunctions. It can provide several digital signal outputs which can be connected with any existing alarms or indicators.
Product Options
| Product Name | Fuel | System Components | Emission Reduction |
| --- | --- | --- | --- |
| BlueMAX™ 300 | Diesel | SCR | |
| BlueMAX™ 300d | Diesel | SCR + DOC | |
| BlueMAX™ PLUS 300 | Diesel | SCR + Passive DPF | |
| BlueMAX™ PLUS 300d | Diesel | SCR + Passive DPF + DOC | |
| BlueMAX™ VOLT 300 | Diesel | SCR + Active DPF (with the Electrical Heater) | |
| BlueMAX™ NOVA 300e | Diesel | SCR + Active DPF (HCI/Optional Electrical Heater) + DOC | |
| BlueMAX™ NG 300 | Lean Burn Natural Gas | SCR | |
Why Choose Nett Technologies?

Nett Technologies has over 25 years of manufacturing experience of the emission control solutions, with thousands of happy customers worldwide and extensive global distributorship.
As a leader and innovator of the industry, Nett Technologies offers the biggest list of ARB and EPA verified emission control products on the market.
Nett offers the fastest turnaround time, advanced quality control, and reduced costs, as the company has everything under one roof: from R&D to manufacturing, as well as its own metal fabrication shop to support the production of emission control systems.
Nett's knowledgable engineering and R&D teams worked with many integrators, engineers and end-users to develop ideal custom solutions and meet the most stringent world emission control regulations.
Nett Technologies Inc. faithfully implements a Management System, certified by QAS according to Standard ISO 9001:2015.