Standard and Add-On Mufflers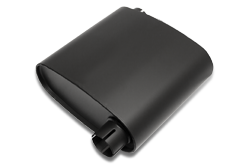 Thanks to almost a quarter century of delivering product excellence in emission control, Nett Technologies Inc. has offered over 10,000 standard (direct-fit) mufflers replacements to match/improve sound attenuation of the Original Equipment Manufacturer (OEM) mufflers while maintaining the backpressure (BP) within engine's maximum allowable limits.
Nett's Stainless Steel, Mild Steel, and Aluminized cost-effective mufflers include large portfolio of both retrofit and aftermarket brands such as:
Bobcat
Caterpillar
Hyster
John Deere
Komatsu
Kubota
Toyota
Nissan
Kawasaki
Kohler
and many, many more...
Add-On Mufflers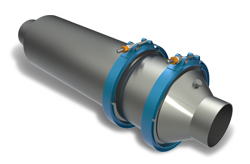 Mainly for use within the mining industry, Nett Technologies Add-On Mufflers are an excellent addition for those looking for sound attention where the original muffler has been removed. This product is used as a part of a universal-fit clamped Diesel Oxidation Catalyst (DOC). The Add-On Muffler can be purchased initially as a part of your DOC, or can be purchased as a separate product at a later date to be clamped-on as a replacement of your existing DOC outlet cone.
Core Focuses
Nett Technologies Inc. proudly offers all exhaust accessories, custom designs and piping with the following core focuses:
Sound Solutions: Leveraging advanced sound modeling software to assess and recommend the best noise solutions
Thermal Management: Designing special heat shields exceeding all health and safety regulations
Compact Designs: Providing high performance economical solutions with the least foot-print; reducing the system weight and size.
Noise and Emissions Testing
Nett Technologies Inc. is the cross-section of Quality & Affordability when it comes to Noise & Emission Testing & Simulations. Rely on us to save you time and money in performing both Physical/Virtual Backpressure and Sound Measurements studies.