GreenTRAP™-Series

Passive Diesel Particulate Filter (DPF) Features
Great at reducing deadly emissions, such as Carbon Monoxide (CO), Hydrocarbons (HC) and Particulate Matter (PM). Visible smoke is completely eliminated by the filter
Recognized and listed by the U.S. Mine Safety and Health Administration (MSHA). As well as ARB Verified for the stationary application.
GreenTRAP™ 100 (MSHA Listed) is ideal for Off-road application (construction, mining, material handling), GreenTRAP™ 300 (ARB Verified) – Power Generation, GreenTRAP™ 320 – Marine, GreenTRAP™ 350 – Gantry Cranes, GreenTRAP™ 420 – Locomotive industry
Compact design with thermal insulation
Optional computerized controller with 3 customizable alarms and data logging capabilities
System maintenance intervals of 2000 to 6000 hours
Stainless steel housing, custom fit available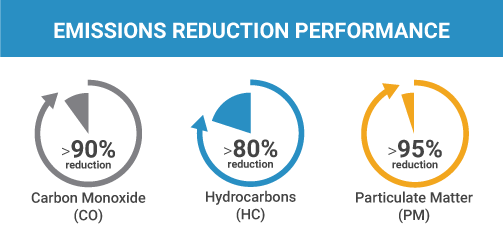 GreenTRAP™-Series - Technology
Nett® GreenTRAP™-Series Diesel Particulate Filters (DPF) utilize cordierite wall-flow monoliths to trap the soot produced by medium to heavy-duty engines in off-road, on-road and stationary applications. The cylindrical filter element consists of many square parallel channels running in the axial direction, separated by thin porous walls, as shown below.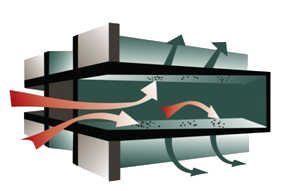 The channels are open at one end and plugged at the other, which forces the particle laden exhaust gases to flow through the walls. Gas is able to escape through the pores in the wall material. Particulates, however, are too large to escape and are trapped in the filter walls and in the inlet channels. A proprietary noble metal catalyst is coated onto the inside surface of the filter monolith. The catalyst lowers the soot combustion temperature allowing the filter to regenerate. The accumulated soot is oxidized in the filter during regular operation of the engine. For about 25-30% of the engine operating time, the exhaust temperatures must be at least 275-300°C (530-575°F) for proper filter regeneration when ULSD (ultra-low sulfur diesel) fuel is used.
The exact temperature requirements change with engine technology, with installations on older, dirty engines requiring higher exhaust temperatures for regeneration. For example, filters installed on older engines with high DPM emissions (e.g., >= 0.30 g/bhp-hr) may require temperatures of 325-400°C (615-750°F). The regeneration also depends on other factors, such as the vehicle duty cycle, filter sizing and type of diesel fuel used. ULSD fuel (S < 15 ppm wt.) is now widely available and should be used whenever possible with any diesel particulate filter.
GreenTRAP™-Series - Performance
The soot filtration efficiency of the Nett® GreenTRAP™-Series catalytic Diesel Particulate Filters (DPF) increases with the soot loading in the unit. Even at low soot loads, the filter efficiency exceeds 95% (blue line in Figure below). The visible smoke is completely eliminated by the filter, resulting in a dramatic improvement of smoke opacity readings.
Typical exhaust gas pressure drop on a properly regenerating filter is between 5 and 10 kPa (20-40" H2O). There is a relationship between the exhaust gas temperature and the filter pressure drop. Applications with higher exhaust temperatures regenerate better, accumulate less soot in the filter, and experience lower pressure drop. The filter pressure drop is also influenced by the engine-out DPM emissions. Dirty engines with high soot emissions require that more DPM is captured and oxidized in the filter, resulting in higher average soot loading and pressure drop. For this reason, filters are likely to work at a higher pressure drop when installed on high polluting engines.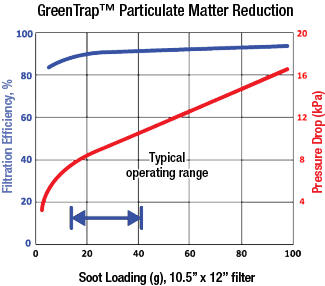 Gas Phase Performance
Due to the presence of the Oxidation Catalyst, reductions in Carbon Monoxide (CO) and Hydrocarbon (HC) emissions are also observed in the filter.  The gas phase performance of the Nett® GreenTRAP™-Series filters is similar to that of a standard Diesel Oxidation Catalyst (DOC), as illustrated in the figure below.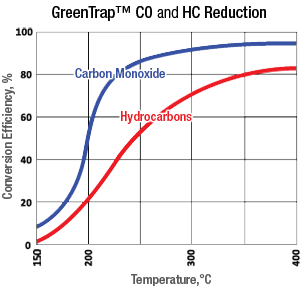 GreenTRAP™-Series - Designs and Options
Standard models of GreenTRAP™-Series Diesel Particulate Filters (DPF) are listed below. Filter sizing guidelines in the table are approximate. Sizing for particular engines and applications should be consulted with our office before ordering.
Nett GreenTRAP™-Series Diesel Particulate Filters
Overall Dimensions
Max. Engine Power
Diameter
Length
Model
hp
kW
inch
mm
inch
mm
SA502
33
25
6.2
157
14.8
376
SA705
75
56
8.1
206
18.5
470
SA709
113
85
8.1
206
22.5
572
SA913
162
121
9.6
244
25.5
648
SA1017
221
165
11.1
282
26.7
678
SA1123
296
221
11.9
302
30.6
777
SA1222
288
215
12.7
323
28.6
726
SA1228
360
269
12.7
323
31.6
803
SA1337
479
358
13.7
348
34.5
876
SA1543
563
420
15.7
399
34.2
869
SA2077
1000
746
20.7
526
38.2
970
GreenTRAP™ 300 - CARB Verification
The Nett GreenTRAP™ 300 Diesel Particulate Filter (DPF) is a California Air Resources Board (CARB) verified passive diesel particulate filter for stationary applications. The GreenTRAP™ 300 reduces emissions of Diesel Particulate Matter (DPM) consistent with a Level 3 device (greater than or equal to 95% reduction), complies with CARB January 1, 2009, nitrogen dioxide (NO2) limit and is verified as a Level 3 Plus diesel emissions control device.
The California ARB has verified the Nett GreenTRAP™ 300 system for its Airborne Toxic Control Measure (ATCM) for stationary compression ignition engines. The verification covers stationary prime and emergency standby generators and pumps powered by certified off-road diesel engines meeting 0.2 grams per-horsepower-hour hour (g/bhp-hr) PM or less. The GreenTRAP™ 300 catalytic diesel particulate filter utilizes a wall-flow filter monolith coated with a proprietary catalyst to enable passive regeneration (self-cleaning) at typical diesel exhaust temperatures. Specific engine criteria for which the GreenTRAP™ 300 Diesel Particulate Filter (DPF) system has been approved may be found on the Executive Order, posted on the California ARB website: (http://www.arb.ca.gov/diesel/verdev/vt/stationary.htm).
Diesel engines emit a complex mixture of air pollutants, composed of gaseous, liquid and solid materials. The visible emissions in diesel exhaust are known as particulate matter or PM, which include carbon particles commonly referred to as "soot".  In 1998, following a 10-year scientific assessment process, the ARB identified Diesel Particulate Matter (DPM) as a toxic air contaminant based on its potential to cause cancer and other health problems, including respiratory illnesses and increased risk of heart disease. Health risks from Diesel Particulate Matter (DPM) are highest in areas of concentrated emissions, such as near ports, rail yards, freeways or warehouse distribution centers.
To reduce public exposure to Diesel Particulate Matter (DPM), in 2000, the ARB approved the Risk Reduction Plan to Reduce Particulate Matter Emission from Diesel-Fueled Engines and Vehicles. Integral to this plan is the implementation of control measures to reduce Diesel Particulate Matter (DPM) such as the ATCM for stationary diesel-fueled engines. Among other provisions, the ATCM established emission standards and fuel use requirements for new and in-use stationary engines used in prime and emergency back-up applications. In addition to PM, the ATCM establishes emission standards for Hydrocarbons (HC), Nitrogen Oxides (NOx), non-Methane Hydrocarbons and NOx (NMHC+NOx), and Carbon Monoxide (CO).
GreenTRAP™ 100 - MSHA Listing
This technology is pivotal in assisting retrofit compliance with the newly adopted MSHA rules regarding Diesel Particulate Matter (DPM) emissions in underground mines. It is the first legislation to control miners' exposure to diesel particulates in U.S. mines.
The coal mine rule prohibits heavy-duty diesel equipment to emit levels exceeding 2.5 grams per hour of DPM with a phase-in schedule beginning May 21, 2001. The metal/non-metal (i.e. non-coal) mine rule establishes stringent DPM exposure limits effective July 19, 2001. Thousands of diesel engines in underground mines will be retrofitted with diesel particulate filters to comply with these regulations.
Two Nett® particulate filter technologies; cordierite, which performs in most heavy-duty applications with high exhaust temperature, accommodating engines from 15 to 450 kW in a single exhaust configuration; SiC (silicon carbide) has higher maximum operating temperature limits, accommodating engines from 13 to 206 kW in a single exhaust configuration, comply with the new MSHA diesel regulations for coal and metal/nonmetal underground mines. Nett® particulate filters have been designed for heavy-duty mining equipment such as LHD loaders and haul trucks, which are the largest contributors to the total diesel particulate emissions in underground mines. The MSHA accepted filtration efficiency of Nett® filters for reducing these emissions is 85% and 87% for the cordierite and SiC technology, respectively.
The emission of DPM, commonly known as soot, is the current air quality concern in underground mining. Due to their sub-micron particle size, diesel particulates penetrate deep into the human lungs contributing to numerous respiratory problems. Carcinogenic activity is also attributed to diesel particulates.
The use of diesel particulate filters is the only solution open to mine operators to meet these stringent regulations. Nett® particulate filters utilize ceramic wall-flow monoliths to trap DPM and offer unsurpassed filtration efficiency, typically in excess of 90%. The surface of the filter is coated with a proprietary catalyst, which has the ability to lower the soot combustion temperature. In contact with the catalyst, the collected diesel particulates burn out at temperatures found in the exhaust gases during the regular operation of the vehicle. Thus, a self-regeneration of the filter is facilitated. Nett® filters work virtually maintenance-free on most heavy-duty diesel engines in underground mine applications.
Nett's particulate filter and other technologies complying with the regulations are listed on the MSHA website.