M-Series (Metallic)

Diesel Oxidation Catalysts (DOC) Features
Metallic DOC technology
M-Series DOC is ideal for Off-road application (construction, mining, material handling, utility), On-road, Power Generation, Marine, Gantry Cranes and Locomotive industries
EPA verified for the stationary applications
Maintenance-free, reliable and cost-effective emission control solution
Available in both universal and direct-fit designs (Nett Technologies has a database of over 10000 direct-fit muffler designs)
Mufflers are built entirely from corrosion resistant materials: aluminized and stainless steels
Installation time and cost are reduced to a minimum
DOC Catalytic Mufflers match or surpass the original muffler in sound attenuation and back pressure characteristics with addition of superior emissions performance
Great at reducing deadly emissions, such as Carbon Monoxide (CO) and Hydrocarbons (HC)
M-Series - Technology
The M-Series line of Nett diesel exhaust catalytic converters utilizes metallic monolith catalyst supports. The supports are made from a corrugated, high temperature stainless steel foil. Packages of several foil layers are fitted in stainless steel housings and secured in place by stainless steel rings. A special herringbone foil corrugation pattern creates a mixed flow cell structure. Exhaust gases from the Diesel Oxidation Catalyst (DOC) are forced into the turbulent flow regime resulting in better contact between gas and catalyst, enhanced mass-transfer conditions, and higher conversion efficiency. Selected physical properties of Nett metallic monoliths are listed in the table below. The catalyst is deposited onto the foil prior to forming the substrate. A special foil washcoating process provides unequaled control of washcoat uniformity, adhesion, and efficient catalyst use. Thick washcoat concentrations in cell corners, which are inherent for other designs of metallic substrates, completely disappear with the precoated foil technology.
Physical Properties of Nett Technologies Catalyst Monoliths (uncoated)
 
Metallic
Ceramic
Cell Density, cpsi
160
240
320
200
300
400
Wall Thickness, mm
0.05
0.05
0.05
0.30
0.21
0.18
Geometric Surface Area, cm2/cm3
19
23
26
18.5
23.6
27.2
Open Frontal Area, %
94
92
91
69
74
74
Bulk Density, g/cm3
0.43
0.53
0.59
0.53
0.45
0.45
M-Series - Performance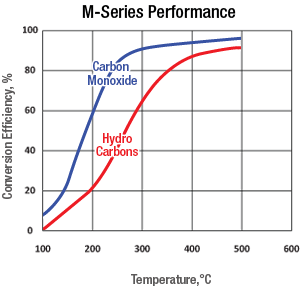 The M-Series Diesel Oxidation Catalyst (DOC) yields a balance of High Hydrocarbon, Carbon Monoxide, and Particulate Matter (SOF) conversion with low sulfate formation.
The exact emission performance depends on the catalyst size, exhaust temperature, and raw exhaust composition. A minimum temperature of about 180°C (360°F) is required for conversion. Best catalyst performance occurs at temperatures above 250-300°C (480-570°F) when the conversion of carbon monoxide exceeds 90%. Conversion of diesel particulate matter in the catalyst depends on the composition of the particulates and the sulfur content of the fuel. Achievable particulate matter reductions amount to 30-50%.
Catalyst Durability
The rugged construction of Nett Technologies' exhaust purifiers, using either metallic or ceramic supports, provides excellent mechanical durability. The catalyst substrate is designed to last for the entire life-span of the engine. Good engine maintenance, however, is necessary to sustain the catalyst activity for similar period of time. The two major causes of catalyst deactivation are (1) high temperature and (2) poisoning.
The catalyst may suffer thermal degradation when exposed to temperatures above 650°C (1200°F) for prolonged periods of time. Diesel engines have intrinsically cool exhaust gases and thermal catalyst deterioration is not likely to take place under normal operating conditions. Catalyst overheating may occur only as a result of serious engine malfunction, such as leaking injectors, when unburned fuel is oxidized in the catalyst and excessive temperature rise is observed due to the exothermic reaction.
Several chemical elements have the ability to either selectively poison the catalyst or to mask the catalytic surface, thus, preventing the contact between exhaust gases and active catalyst sites. Substances to be avoided include phosphorus, zinc, heavy metals, lead, arsenic, vanadium, and silicone. Some of these elements (e.g., phosphorus) may be contained as additives in the engine lube oil. Low lube oil consumption and the use of low-phosphorus oils are guidelines for extended catalyst life. Leaks of lube oil into the exhaust system are very detrimental and can irreversibly deactivate the catalyst within a few hours or days.
M-Series - Designs and Options
M-Series DOC are available in two designs: universal fit (clamped or welded) and direct-fir replacement (of  the OEM muffler).
Direct-Fit Catalytic Mufflers
Nett Technologies has direct-fit catalytic mufflers available for thousands of models of construction equipment, forklift trucks and other diesel powered equipment. The pre-designed models are in-stock or can be built and shipped within a few days. Catalytic mufflers are available to replace the original muffler for any diesel application. The M-Series emission control catalyst is built into the muffler and is selected based on the size of the engine. Catalytic mufflers are guaranteed to be a exact-fit replacement for the original muffler. The emissions reduction performance of catalytic mufflers is also guaranteed, provided the engine is well maintained without excessive lube oil consumption.
Universal-Fit Catalytic Converters

Nett Technologies offers two universal-fit configurations for the M-Series catalytic purifiers, as shown in images below. The welded (one-piece) design is more compact and recommended for space-limited applications. The clamped design allows for easy removal of the center-body (catalyst) for inspection and cleaning, if required.

Options
Add-on Mufflers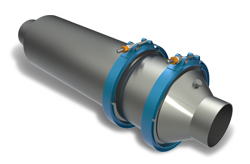 For universal-fit clamped converters, add-on mufflers are available which replace the outlet cone of the Diesel Oxidation Catalyst (DOC). The add-on muffler adds sound reduction to the Diesel Oxidation Catalyst (DOC) for installations where the original muffler is being removed.
Insulative Blankets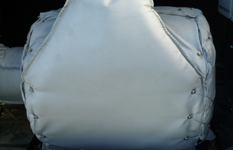 Custom heat-insulative blankets are available for applications where the additional heat generated by the Diesel Oxidation Catalyst's (DOC) catalytic activity is a concern for operators, others in the vicinity or the equipment itself. Blankets can be designed to cover the Diesel Oxidation Catalyst (DOC), exhaust piping, mufflers or the entire exhaust system.
OEM Products
OEM applications are developed in co-operation with the equipment manufacturer. The catalyst specifications are optimized to meet the particular emission targets and durability requirements. As well, the design of the catalytic converter, including the catalyst substrate selection, canning technology, and noise attenuation requirements are optimized for the application. Development of OEM exhaust systems includes the design and fabrication of prototypes which are tested for emission and noise performance. Nett also provides compliance certification with the EPA or California ARB (Air Resources Board) regardless of whether a Nett emission control device is utilized. Three emission test cells are available for exhaust analysis of LPG, gasoline, CNG or diesel engines up to 250 kW (335 hp). See Engine Emissions Test Laboratory section for more information.
DOC MD 300 - EPA Verification
Nett's Diesel Oxidation Catalysts (DOCs) are catalytic converters designed to oxidize Carbon Monoxide (CO), Hydrocarbons (HC) and aldehydes contained in diesel exhaust to non-toxic compounds like carbon dioxide and water vapor. The substrates are made of corrugated, high temperature resistant stainless steel metallic foil coated with platinum group metal catalysts. The precious metal coating is designed for high performance and longitivity. The MD300 formulation provides a 90% reduction of CO (significantly higher than current EPA RICE NESHAP requirements) and an 80% reduction of HC. Conversion of Diesel Particulate Matter (DPM) is an important function of modern diesel oxidation catalysts and the MD300 will reduce particulate matter by 20%.
MD300 DOCs are verified for use on 4 cycle, constant speed, compression ignition engines rated at 100-750 hp (75-560 kW). Applications include power generation, gas compression, co-generation, pumping stations and irrigation equipment certified to Tier 1, Tier 2 or Tier 3.
Nett's MD300 DOCs are available in either stand-alone or silencer configurations. Stand-alone designs are universal-fit units for controlling exhaust emissions only. Silencer configurations pair the DOC emissions control unit with silencers available in industry-standard sound-attenuation grades (industrial, residential, critical, hospital, etc.). Models are available in heavy-gauge mild, aluminized and stainless steel materials.
With the addition of a data logger, which is used for displaying and recording differential backpressure and exhaust gas temperature across the catalyst, this product is fully compliant with the EPA's National Emission Standards for Hazardous Air Pollutants for Stationary Reciprocating Internal Combustion Engines (RICE NESHAP) regulations. For more information, please visit the EPA's link http://www.epa.gov/region1/rice/.
For more information about the MD300 verification, please click here.