Flame Arrestors (Traps)
Flame transition prevention for your diesel engine just got easier! Nett Flame Arrestors are an ideal safety solution for off-road diesel engine applications, such as mining, construction, power generation and others. Virtually maintenance-free, Nett Technologies' Flame Arrestors prevent costly equipment shutdowns and enable maximum engine uptime.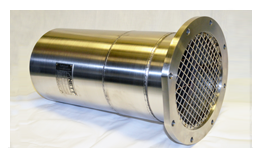 FX-Series™ Flame Arrestors (or Flame Traps) are a low backpressure exhaust cooling solution...