Looking for more info on Silencers? Contact us at 1-800-361-6388
With lots of on-site equipment options to choose from, isn't it time to take control of your health and the environment by demanding the engine with the blue catalytic muffler?
By choosing a BlueCAT™ equipped Honda small engine, you'll get the peace of mind knowing you are protected by the same California Air Resources Board (CARB) technology which has been verified and proven in 1000's of installations on Large Spark Ignited (LSI) engines.
Isn't it time to take the blue!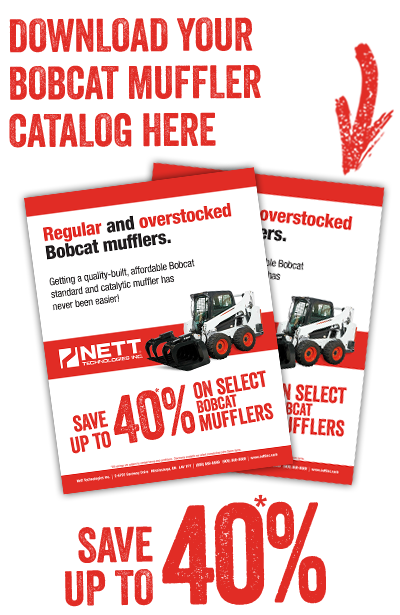 Looking for more information on Bobcat mufflers? Contact us at 1-800-361-6388
Bobcat standard and catalytic
after-market mufflers
Nett Technologies has a database of over 10,000 standard and catalytic muffler designs – we have a Bobcat muffler to fit your every emission control need! Please see below the various standard and catalytic Bobcat muffler designs we manufacture.
Looking to save 10% on regular stock muffler?

*All savings are subject to certain terms and conditions. Discount available on select overstocked items.
DID YOU KNOW WE SELL STANDARD AND CATALYTIC MUFFLERS FOR THESE OTHER BRANDS?