BlueMAX™ NOVA 300e SCR System Verified by California Air Resources Board (CARB)
Nett Technologies Inc (Nett), of Mississauga, Ontario is pleased to announce that it has received a verification from the California Air Resources Board (CARB) for their BlueMAX™ NOVA 300e System. The verification Executive Order can be viewed at: (http://www.arb.ca.gov/diesel/verdev/vt/stationary/netttech/eode061814.pdf).
Nett's BlueMAX™ NOVA 300e diesel emission control retrofit system is verified to Level 3 Plus for diesel particulate matter (PM) reduction and Mark 5 for reduction of oxides of nitrogen (NOx). A Level 3 Plus PM reduction is greater than or equal to an 85% percent reduction and a Mark 5 level for NOx is also greater than or equal to an 85% reduction. The achieved reduction levels make this system the product with the highest emissions reduction levels verified for the retrofit market. The verification applies to Tier 1, 2 and 3 engines above 56kW originally certified without a catalyst or exhaust gas recirculation (EGR). It is an ideal product for prime power and peak power shaving generators.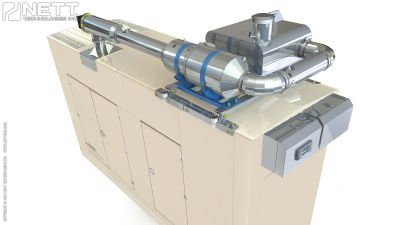 The BlueMAX™ NOVA 300e incorporates both an active diesel particulate filter (ADPF) and a selective catalytic reduction (SCR) system. The Active DPF system consists of a diesel oxidation catalyst (DOC) positioned upstream of a catalyzed DPF, which traps the PM emissions from the diesel engine. The catalyst lowers the PM oxidation temperature allowing the filter to passively regenerate at temperatures above 300°C. When the engine exhaust temperature is not sufficient for passive regeneration, the DPF can be regenerated by means of HC injection over the DOC catalyst. NOx is reduced over the SCR catalyst through chemical reactions with ammonia produced by urea decomposition. The solution of 32.5% urea in water is known as diesel exhaust fluid (DEF), which is injected upstream of the SCR catalyst. The system is also equipped with a color display providing operator feedback and control that records both system and error codes, meeting the most stringent ARB requirements.
The system's installation is simple and efficient due to a preassembled modular kit that can be lifted into place by a forklift and mounted on the stationary equipment using only a few brackets. Installation then requires connections to the exhaust, electrical, fuel and a DEF supply.
Nett Technologies Inc. has many ways to help organizations meet their emission regulatory compliance needs. Visit them online at www.nettinc.com for their full line of emission control solutions.
For further information, please contact:
Wayne Moffat
Senior Technical Sales Manager
Nett Technologies Inc.
[email protected]
905.672.5453 x124

Suzanne Pcolinsky
PR Associate
Nett Technologies Inc.
[email protected]
905.672.5453 x100
About Nett Technologies Inc.
Located in the Greater Toronto Area, Nett Technologies Inc. (Nett) is an innovative emissions control company that specializes in the design, development and manufacture of pollution control solutions for today's compression and spark-ignited engines for both the OEM and retrofit markets. Sold and supported globally, Nett develops and manufactures proprietary catalytic solutions that use the latest in diesel oxidation catalyst (DOC), diesel particulate filter (DPF), selective catalytic reduction (SCR), engine electronics, stationary engine silencer, exhaust system and exhaust gas dilution technologies. Being an emission control authority, Nett continues to manufacture emission solutions that are California ARB (Air Resources Board) and U.S. EPA (Environmental Protection Agency) verified. As the industry leader and innovator of direct-fit emission control solutions to the construction, mining, material handling, power generation, utility, transit and trucking, marine and locomotive industries, Nett is achieving new standards in emission control excellence.