MD 300 Diesel Oxidation Catalyst Verified
by the United States Environmental Protection Agency
Nett Technologies Inc (Nett), of Mississauga, Ontario is pleased to announce yet another verification from the U.S Environmental Protection Agency for their MD 300 Diesel Oxidation Catalyst (http://www.epa.gov/cleandiesel/verification/techlist-nett.htm).
Nett's diesel oxidation catalysts (DOCs) are catalytic converters designed to oxidize carbon monoxide (CO), hydrocarbons (HC) and aldehydes contained in diesel exhaust to non-toxic compounds like carbon dioxide and water vapor. The substrates are made of corrugated, high temperature resistant stainless steel metallic foil coated with platinum group metal catalysts. The precious metal coating is designed for high performance and longitivity. The MD 300 formulation provides a 90% reduction of CO (significantly higher than current EPA RICE NESHAP requirements) and an 80% reduction of HC. Conversion of diesel particulate matter (DPM) is an important function of modern diesel oxidation catalysts and the MD 300 will reduce particulate matter by 20%.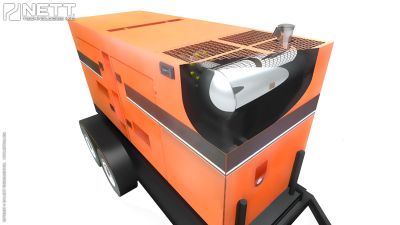 MD 300 DOCs are verified for use on 4 cycle, constant speed, compression ignition engines rated at 100-750 hp (75-560 kW). Applications include power generation, gas compression, co-generation, pumping stations and irrigation equipment certified to Tier 1, Tier 2 or Tier 3.
Nett's MD 300 DOCs are available in either stand-alone or silencer configurations. Stand-alone designs are universal-fit units for controlling exhaust emissions only. Silencer configurations pair the DOC emissions control unit with silencers available in industry-standard sound-attenuation grades (industrial, residential, critical, hospital, etc.). Models are available in heavy-gauge mild, aluminized and stainless steel materials.
With the addition of a data logger, which is used for displaying and recording differential backpressure and exhaust gas temperature across the catalyst, this product is fully compliant with the EPA's National Emission Standards for Hazardous Air Pollutants for Stationary Reciprocating Internal Combustion Engines (RICE NESHAP) regulations. For more information, please visit the EPA's linkhttp://www.epa.gov/region1/rice/
Nett Technologies Inc. is excited about another new addition to its line of products and is expecting more verification announcements in 2014.
Nett Technologies Inc. has many ways to help organizations meet their emission regulatory compliance needs. Visit them online at www.nettinc.com for their full line of emission control solutions.