Nett Technologies Inc. Introduces New Online Conversion Calculators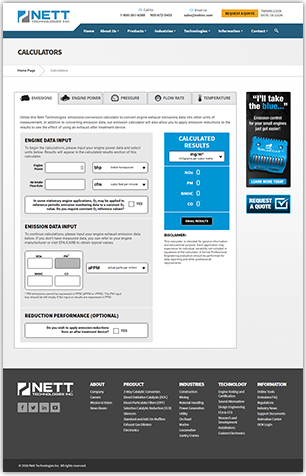 FEBRUARY 17, 2017 / Nett Technologies Inc., of Mississauga, Ontario – a leading manufacturer of innovative emission control solutions – is proud to introduce online calculators to their website which provide users with quick and accurate tools for engine and emission related conversion calculations.
Users can select from five available calculators. Presently, Nett Technologies offers emissions, engine power, pressure, flow rate and temperature conversion calculators.  Once a conversion calculator has been selected, users are prompted to enter input data for the calculations.  For simple conversions, a single data input is required, whereas more complex conversion calculators require multiple data inputs. Users of the conversion calculators will be pleasantly surprised to see real-time conversion happening as they input data.
As an additional option, users can email their newly calculated results with the simple click of a button. "As the industry's leader in emission control related products and services, we felt the need to provide a series of online tools to help customers with emission related conversions and calculations," mentions Seyed Shameli head of Product Development. "I feel, once again, that we've gone above and beyond to deliver products, services, and in this case, online tools that our customers will regularly use," continues Seyed.
Discover the many ways Nett Technologies can help you and your organization meet tough emission control regulatory requirements. Visit Nett Technologies' new website today at www.nettinc.com and discover their full line of emission control products and services.
For further information, please contact:
Alex Stojkovic – Marketing Manager
Nett Technologies Inc.


[email protected]


(905) 672-5453 x 105
Seyed Shameli, PhD – Product Development
Nett Technologies Inc.


[email protected]


(905) 672-5453 x 120