Nett Technologies makes SCR data logging easy with the PTLOG™ 270SCR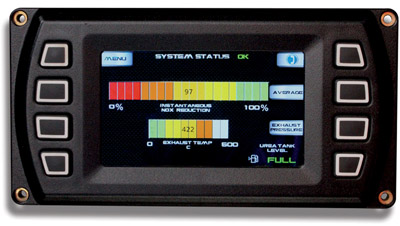 Continuing the tradition of being the "emission control authority," Nett Technologies Inc. of Mississauga, Ontario is proud to announce the launch of its newest addition to the PTLOG™ family of data loggers; the PTLOG™ 270SCR.
The PTLOG™ 270SCR is an advanced data monitor and logger designed to monitor,log and provide alerts to the activities of Nett Technologies' SCR (Select Catalytic Reduction) emission control system. This rugged, reliable and full featured emission data logger device automatically collects, time stamps and displays sensor and warning related messages from the BlueMAX™ group of SCR emission control systems.
"The PTLOG™ 270SCR data logger is a welcomed addition to our product line. It has an easy to read 4.3-inch screen and software that's flashable and upgradable. This data logger is going to be extremely popular to those looking to log and monitor the NOx levels in their BlueMAX™ SCR systems." says Mohammad Pournazeri, head of R&D Product Development at Nett Technologies.
The PTLOG™ 270SCR uses a Freescale iMX35, 32 bit 532MHz processor and monitors SCR emission control system in real-time. This easy to install data logger utilizes the industry standard CAN 2.0B – SEA J1939 vehicle bus. The unit ships with 128MB of internal memory that can be downloaded by connecting a USB stick. The PTLOG™ 270SCR also has automatic on-board calibration and is the perfect SCR data logger and emissions reduction monitoring system for those in the mining, stationary genset, off-road and on-road industries.
Discover today the many ways Nett Technologies can help your organization meet emission regulatory compliance. Visit Nett online at www.nettinc.com for all your emission control solutions.
For further information, please contact:

Alex Stojkovic
Marketing Manager
Nett Technologies Inc.
[email protected]
(905) 672-5453 x 105

Mohammad Pournazeri
Head of R&D Product Development 
Nett Technologies Inc.
[email protected]
(905) 672-5453 x 120
About Nett Technologies Inc.
Located in the Greater Toronto Area, Nett Technologies Inc. is an innovative emissions control company that specializes in the design, development and manufacture of pollution control solutions for today's compression and spark-ignited engines for both the OEM and retrofit markets. Sold and supported globally, Nett Technologies Inc., develops and manufactures proprietary catalytic solutions that use the latest in diesel oxidation catalyst (DOC), diesel particulate filter (DPF), selective catalytic reduction (SCR), engine electronics, stationary engine silencer, exhaust system and exhaust gas dilution technologies. Our reliable and real-world emission solutions will extend the useable life of existing equipment while allowing you to avoid costly future replacements. During our manufacturing processes, we use the best of materials, innovative product design and workmanship. We manufacture emission control solutions that are California Air Resources Board (ARB) and the U.S. Environmental Protection Agency (EPA) verified. As the emission control authority, we are here to help you navigate through the hassles and complexities of emission control compliance. We are the industry leader and innovator of direct-fit emission control solutions to the construction, mining, material handling, power generation, utility, transit and trucking, marine and locomotive industries achieving new standards in emission control excellence.